Robert has been associated with Unique Group since 2007 and currently works as an Engineer for Electrical Projects in Cape Town.
Q1. Please provide a brief summary of your career to date. How many years in the industry and how many at Unique Group? 
I started my career in the boiler and burner industry back in the year 2005 developing, manufacturing installing and commissioning control panels for boilers and burners. I also gained good experience in the servicing of burners.
My career at Unique Group began in 2007 as an Electrical Projects Engineer when the Group's Cape Town operations were running under the umbrella of Unique Hydra. It was an exciting start to my journey with the company as I was thrown into the thick of things with the Adams 9 Man Saturation Dive System wherein, I assisted the electrical department in completing the system build. From there on, it was a snowball of some of the most complex and big-budget projects I worked on with the rest of the team.
Q2. What is your key area of expertise?
Whilst electrical engineering continues to remain my core strength, my key area of expertise lies in the exceptional time management and problem-solving skills that I have developed over the course of these years.
Q3. What do you enjoy most about your current role?
I thoroughly enjoy managing a team on different system builds. Every new build presents its own challenges and this is primarily because no two clients have the same requirements, which in turn makes each of our projects unique to its own build.
Q4. What do you feel is necessary for anyone to excel in a technical/engineering role such as yours?
Firstly, I would say a basic understanding of the engineering industry you work in is key to excel in any technical or engineering role. The varying levels of experience you gain whilst working with different classes of equipment including all the stages of design and testing, coupled with the drive and commitment to get work done within a very rigorous time schedule, are other factors driving a successful technical role.
Q5. How would you describe a typical day for you at Unique Group?
Most of my colleagues in different engineering positions would agree with me when I say that no two days are alike at Unique Group. There are exciting challenges every day when working with a client or a piece of equipment and this excitement drives positivity within the team as we learn to upskill at every stage of project development.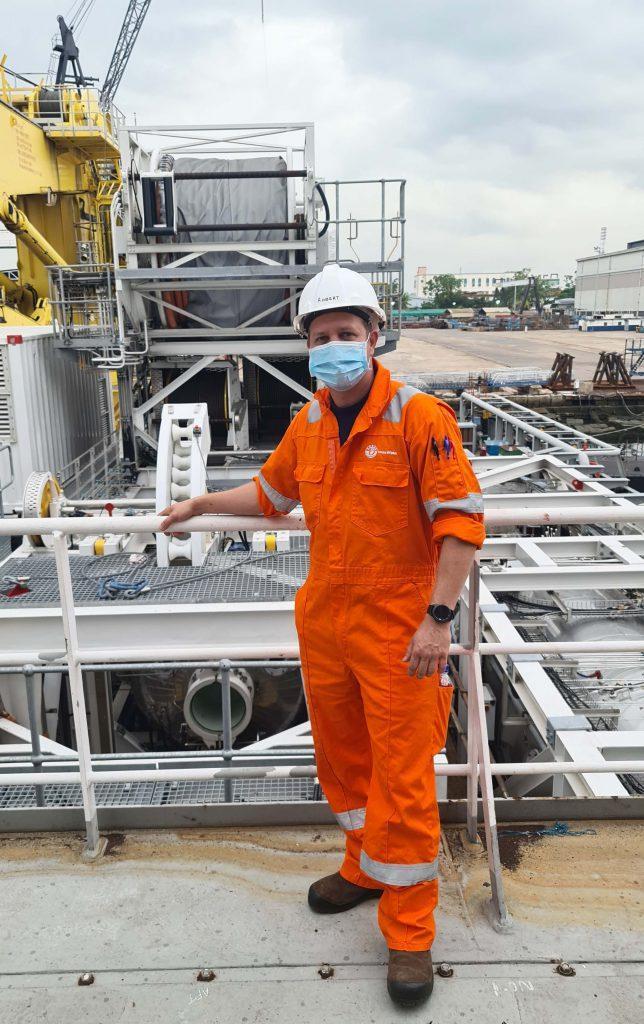 One from Robert's Photo Gallery: working on a SAT system project at client site
Q6. Any key highlights to date of working with the company/key project you worked on?
I am not biased towards any specific project as every project I worked on generated the same levels of satisfaction in the end. Be it simple Air-Dive equipment, LARS, Control Vans, Machinery Vans, Umbilicals, or complex SAT System Integration builds and commissioning – all of them helped me further my exposure into the commercial diving industry and have enhanced my skillsets. Recently, Biogas Generators and other renewable energy inquiries have also been exciting to deal with.
Q7. Any technical challenges faced during the course of a project either at UG or from past work experiences? How did you or the team overcome the challenges?
Every project has its own technical challenges, be it in the planning, design, purchasing, building, testing or commissioning phase. Teamwork is customary and essential in order to brainstorm for the best possible solution in addressing a new challenge, whether it is to speed up the schedule for delayed projects, complex designing issues, new class rule implementations, fitment issues during the build, a circuit failing to operate as per the design or even simply satisfying the customer with a well-built end product.
Q8. What do you specifically do to maintain the professional/personal life balance? How has this changed since the onslaught of COVID-19?
Maintaining a professional and personal life balance is very difficult and challenging, particularly for professionals working in the oil & gas industry. You can never have the best of both worlds and sacrifices are necessary to make. With delivery challenges we have in our industry, personal life normally takes a hit, but with an understanding and supportive family it becomes easier to manage.
COVID-19 obviously did not help the situation as long hours are now required to catch up on time which we lost, but one good thing about the early stages of the pandemic was working from home, which helped me to spend that little extra time with the family. Watching the kids play and answering their questions in between TEAMS meetings and completing work scopes was challenging but still a lot of fun. As the world continues to learn and live with the virus, things are gradually returning to normal, albeit with a few restrictions in place.