"There's no such thing as a "typical" day here," according to depot manager Emma Niven who oversees the day to day running of the busy Water Weights office and workshop in Aberdeen. From here, Emma's nine strong team handles the rental of the company's ground-breaking Water Weights technology to clients all over the world.
Having been with the company for 14 years, Emma has extensive knowledge of the market and has seen the Water Weights range expand and develop from its original 1 tonne – 35 tonne bag, to 50 – 55 tonnes until today's 110 tonne bag – the only one of its size on the market.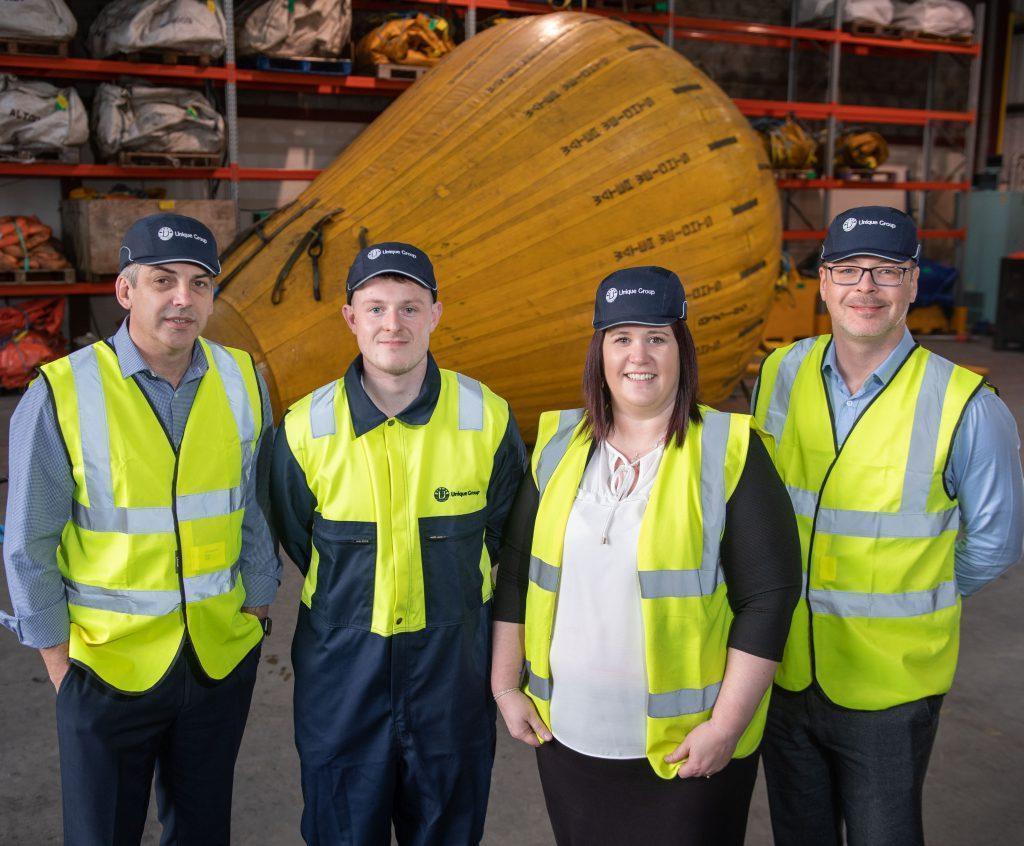 Emma with the team: (L-R) Graham Brading (Group Director – Buoyancy & Ballast), Phil Duncan (Workshop Manager) and Lee Clark (Sales Manager)
Manufactured on the Isle of Wight, a stock of Water Weights bags is stored in Aberdeen ready to be sent to clients across the globe, having been rigorously inspected for any damage and re-certified before despatch.
"One of the things I enjoy most about my role is the variety", Emma explained, "and being able to fulfil a customer's requirements for a specific project which may mean sourcing extra equipment or turning things around within a tight timeframe.
Unique Group's recently signed agreement with Britlift now means the company can provide both the Water Weights bag and the spreader beams required to carry out load testing.
"The majority of our clients are repeat customers who trust our brand and know they can rely on our products and service to get the job done."
Maintaining a level head and keeping things on an even keel during a period of change within the company is one of the reasons Emma was recently chosen to receive a Unique Q-Factor Award. Emma was identified as one who "thrives on working in highly challenging situations and serves as a champion of Unique values."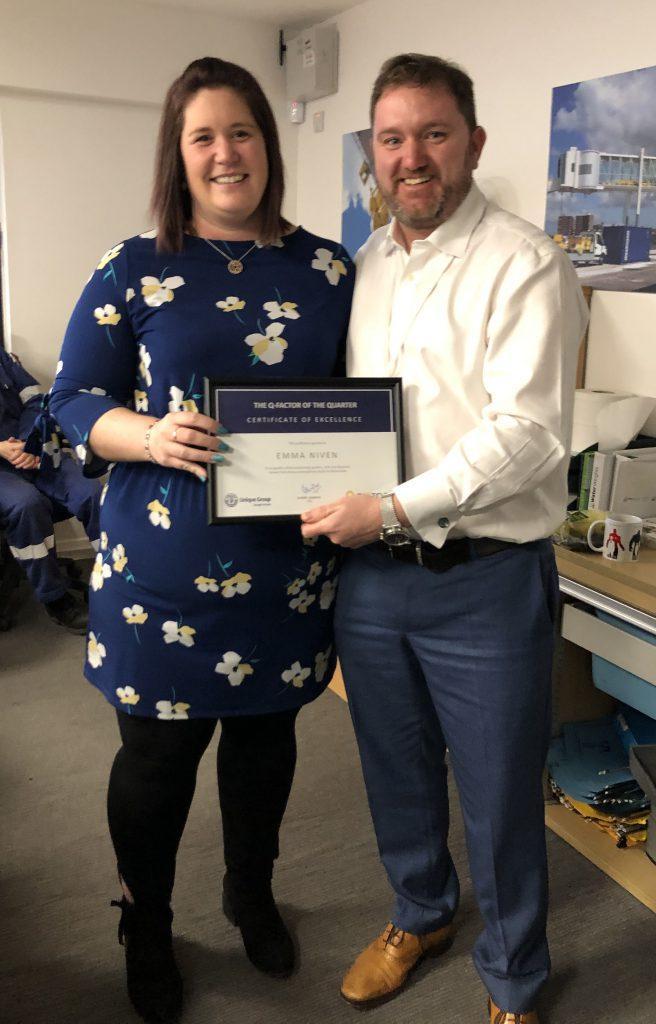 Above: Emma receiving her Q-Factor Award recently from Matt Gordon (RVP – Europe)
Looking ahead, Emma is excited to see the market grow for the 110 tonne bag closer to home as at present, most demand is found in the US and Netherlands. The addition of 110 tonne bags to the UK rental fleet will enable the region to undertake much larger load tests locally, the first of which is due in April and will be the biggest load test carried out in the UK and Europe to date.
Large quantities of Water Weights bags are available among the various Unique Group office locations around the globe – six in the USA, Canada, Brazil, Mexico, Sharjah (UAE), Singapore, Cape Town, Nigeria, Mumbai and the Netherlands, as well as with our agents throughout Europe.