With nearly 15 years of association with Unique Group, Jim Williamson has a fond memory of when the company opened its doors in the United States back in the first week of November 2005. A veteran at Unique who is currently the Technical Head for its Diving and Buoyancy & Ballast operations, Jim's 33 years of commercial diving industry experience has been instrumental in catapulting the Group's diving operations in the GoM to gradual but discernible success.
"I've been very fortunate in obtaining an understanding of the physics and dynamics of commercial diving and the equipment that encompasses its operations with life support for divers", says Jim when probed about his expertise in the field.
"I moved to Louisiana in the southern part of the United States in 1988 to begin a career with a company called Cal Dive International. I spent the first 12 years of my career as a Dive Technician working offshore with a variety of surface and saturation diving systems – maintenance, refurbishment, and new builds were all a part of the daily job. In late 1999, I took over their diving equipment division, and over the next 6 years, I managed 7 saturation dive systems as well as the manufacture of systems from concept design through to FAT", he further added.
In 2005, Harry Gandhi (Unique Group's CEO), the former head of US operations, Arjun Ramchandani and Jim collectively took a leap of faith and partnered to open Unique System (LLC) USA, with the business model focused on equipment rental for the O&G industry, specifically to the Diving, Buoyancy and Survey sectors.
Jim recollects some fantastic moments working with the company over these years and has also seen it grow leaps and bounds despite a roller coaster ride of volatile market conditions.
"I still remember the TSS03 build project in 2008/09 which involved a custom design, 380t single lift saturation system for McDermott International which is still in operation today. Back then, it was a great achievement for the entire Group as our US office was the first American manufacturer to build a commercial dive system in the US under DNV Classification."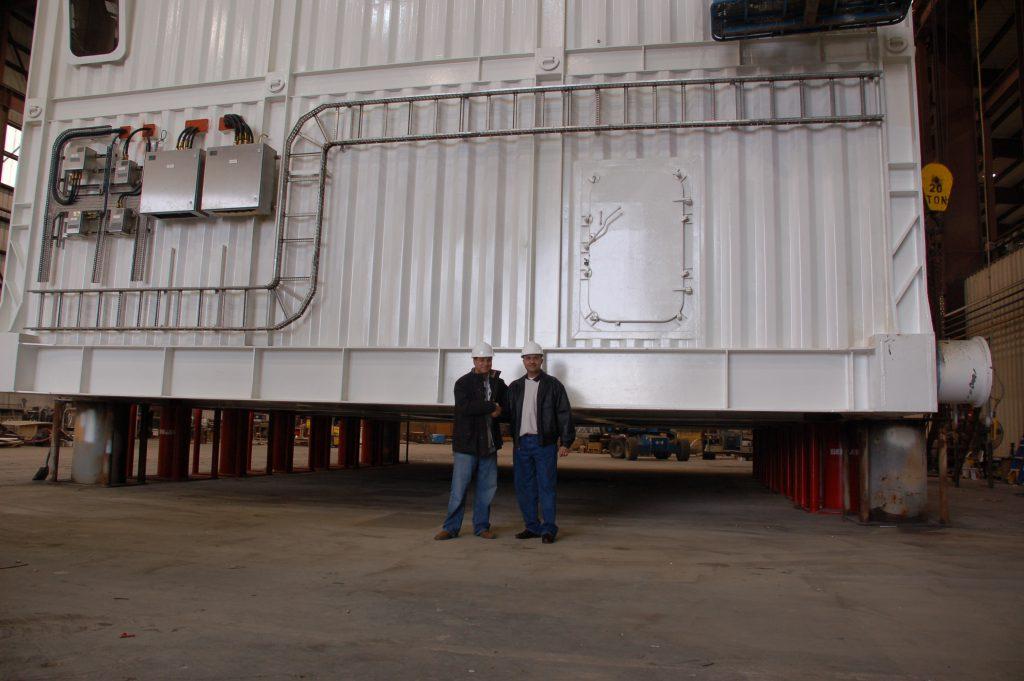 An oldie but goodie: Photograph featuring Jim (L) after completion of TSS03, just prior to moving out of the building & loading to barge for shipment to Batam.
Unique Group's recent achievements in entering the South and Latin American markets have only made things look more positive for the Group's American operations.
"Our people are our greatest blessing. Within the Group, we have a depth of expertise, knowledge and experience not traditionally found in other companies similar to ours. Unique Group has always bred creativity and innovation for its customers. This has given us an added advantage when we venture into new regions and markets."
Looking ahead, Jim is confident that the market conditions will gradually improve despite the turmoil caused by the COVID-19 crisis and the company will emerge as a stronger entity ready to take on new challenges amid new digitisation trends in the industry. On a personal level, Jim wants to be known as an individual who helps other people recognise their purpose in life and inspire them to believe that they can make a difference.