In conversation with Andrew Laing, Cape Town who reminisces on his exciting journey and talks about some of his key highlights and achievements within the industry in the Middle East and Africa. Read ahead!
Q1. Tell us a little more about your career to date. How many years spent in the industry and how many at Unique Group?
I started my career in the Middle East fresh out of school back in 2001. My first role was as a survey technician with a Marine Engineering company in Dubai working extensively on the Palm Island project. We used to rent survey equipment from Unique, so I was familiar with the quality equipment and high level of service provided by the Group.
After 6 years in the Middle East, I returned to South Africa and worked in a range of positions including managing a restaurant and working at a call support center. These "customer" facing roles assisted in my personal development, teaching me to handle high-pressure engagements with different kinds of people.
I joined Unique Group's Cape Town office in 2011, and this was the best choice I have made thus far in my career. Having some idea of the culture and ethics that shapes the company made this move a very easy decision.
I began by supporting the rental team in Cape Town. Over the years the role evolved, and I took charge of the Diving Services team. Since then, we've grown in ability and strength and have a large customer base that relies on the extensive knowledge found both in the team and the Group.
More recently, the Cape Town office was awarded a large contract to supply Mission Systems for the renewal of the South African Navy Hydrographic Capability. With this new role came a young team who have been amazing to work with on this high-profile project.
Q2. What is your key area of expertise?
I have a passion for technology and problem-solving – I ask lots of questions!
My key area of expertise is the ability to provide a cost-effective, long-term solution to our customer's problems and challenges using the Group's skills and footprint.
Q3. What do you enjoy most about your current role?
The people I work with, including our customers, make my job exciting. I am more focused on solving customer problems and building relationships along the way.
Seeing my team and those around me develop and grow is immensely rewarding and working for Unique Group makes these growth and learning opportunities possible.
Q4. What do you feel is necessary for anyone to excel in a technical / engineering role such as yours?
One must be dynamic and be able to question everything – how we can do it better, faster and cheaper.
Make sure you understand the challenges, think, and then offer a solution. For me, it's critical having both plans A and B to work with. But also keeping a plan C in place – you never know what curveballs are ahead.
Q5. How would you describe a typical day for you at Unique Group?
I am usually based in the office, dealing with customer challenges. Defining budgets and timelines for urgent work requires me to be available at any time – so realistically, I work anywhere.
With the current line-up of projects, I am spending more time with my team on the worksites, this helps keep my "hands-on" skills active and I enjoy being in the field building the relationship with my team. This helps me better understand their challenges.
Q6. Any key highlights to date of working with the company / key project you worked on?
All the projects I have worked on have been exciting. One of the highlights was a mobilisation of two rental air diving spreads in Kenya for a key O&G customer. The team and I travelled from Cape Town to meet the customer and receive the equipment.
It was a very tight schedule, and, in the end, we made the delivery date.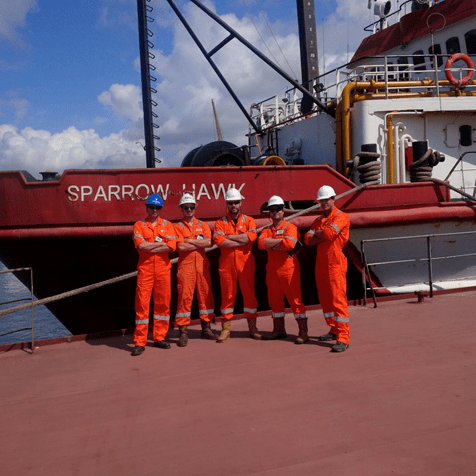 One from Andrew's Photo Gallery: Andrew (center) with the team in Kenya
Right now, the main focus is the delivery of the SA Navy project. This is a high-profile delivery, and we are very proud to be providing the expertise and equipment for such a project.
Q7. What do you specifically do to maintain the professional/personal life balance? How has this changed since the onslaught of COVID-19?
Having travelled extensively during my time at Unique, I am used to remote working and pulling out the laptop at strange hours to assist customers or deal with internal emails.
For me, COVID did not really influence my work/life balance. I am very fortunate to have a supportive family structure that understands the pressures and requirements of my role. On the weekends I try my best to keep my Saturday free from work-related requirements and enjoy time out on the beach or tinkering around the house.
I also have a keen interest in road running, although during COVID the ability to train has been reduced. I look forward to getting back on the road and training for races in the new year.