Unique Group, one of the world's leading integrated subsea and offshore solutions providers, has announced that it has entered into a key agreement with Add Energy Asset & Integrity Management to provide asset and maintenance management consultancy and software solutions to energy and manufacturing companies in the UAE.
Over the past 30 years, Norway-headquartered Add Energy has confirmed its position as a trusted service provider to the energy industry. Through this collaboration, Unique Group will offer clients specialised engineering solutions designed to increase safety, optimise expenditure and maximise plant performance.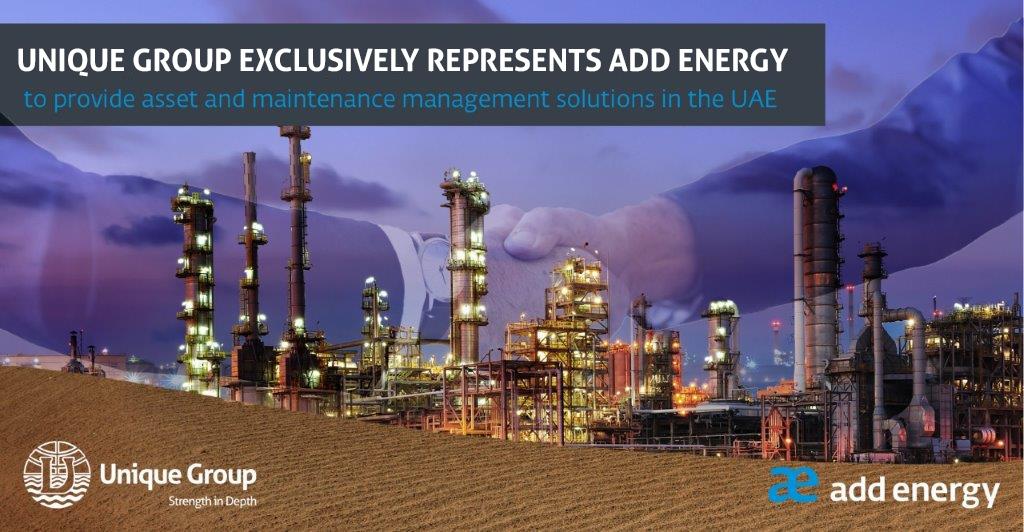 The combination of consultancy and software solutions will mainly focus on performance analysis, CMMS data improvements, maintenance optimisation, materials management and operational support. As a business, Add Energy has a significant track record of delivering results in safety assurance, equipment reliability and uptime to clients including Shell, BP, E. ON, TAQA and other global energy providers.
Sharad Kumar, Group Director for Business Development at Unique Group commented on the partnership: "We're pleased to represent Add Energy in the UAE, and together we can offer our customers robust solutions and specialised consultancy services that enable operations to be safe, compliant and efficient."
Peter Adam, Add Energy's EVP of Asset and Integrity Management commented: "Add Energy are proud to partner with Unique Group in delivering asset and maintenance management solutions to UAE operators. We believe that their local footprint and excellent track record within this region will provide a solid platform for growth, and most importantly, help operators to increase efficiency and considerably optimise operational costs."
To read more about the solutions, click here: Add Energy Solutions
For more information, email marketing@uniquegroup.com