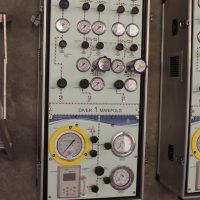 Diving + Life Support
UG 1800 WPM: 3 Diver Mixed Gas Dive Control Panel (Panel Mount)
Unique Group offers UG 1800 WPM: 3 Diver Mixed Gas Dive Control Panel (Panel Mount). It is a 3 diver mixed gas dive control panel. It allows the diving supervisor to individually control the primary and secondary air supply to each diver and to individually monitor the exact depth and dive time of each diver.
Features
IMCA DC37 compliant
3 x depth gauges, mirror band with dual scale (0 – 100 MSW and 0-330 FSW) 0.25% accurate across full scale
The diver's gas supply is 6 JIC and 4 JIC for Pneumo supply.
LP gas supply with inlet ball valve, check valve, and indicating gauge. Fittings are 6 JIC.
2 x separate regulated supplies with 2 independent sources per regulator.
Specifications
Width: 1500 mm
Height: 1200 mm
Depth: 200 mm
Weight: 180 kg
Divers Supply: 6-JIC
Applications
Used in commercial diving operations