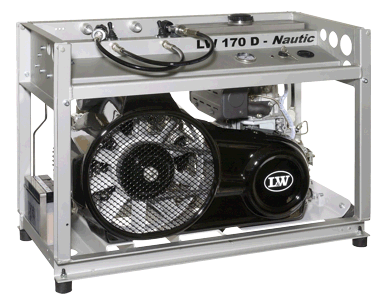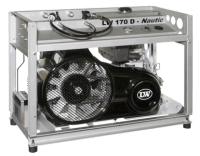 Diving + Life Support
LW 170 D: Nautic Compressors
Unique Group supplies Lenhardt & Wagner compressors. LW 170 D Nautic is a diesel-engine powered, mobile air compressor with a user-friendly design. This air compressor is best-suited for portable uses because of compact design and dedicated carrying handles. The unit is also available in lightweight aluminium frame design.
Features
Yanmar L70 4.8 kW diesel motor c/w 12 V electric start (additional pull start)
Breathing air purification an accordance to EN 12021
Instrument panel c/w key start and generator warning lamp
Hour counter and integrated pressure gauge
Crash frame c/w 4 carrying handles and sling eyes (Colour: RAL 6026)
Specifications
Type: Air cooled piston compressor
Capacity [l/min] / [Nm³/h] / [cfm]: 170 / 10.2 / 6.0
Max. Pressure [bar]: 330, RPM [1/min]: 1530
No of cylinders / No of stages: 3 / 3
Prime mover type: Air cooled diesel engine (electric start)
Applications
Best suited for field purposes by marine biologists and dive boats, as well as military, police, rescue and disaster relief groups.