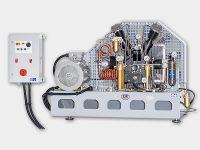 Diving + Life Support
LW 720 E: Compressors
Unique Group offers the industrial compressor LW 720 E. The compressor unit comes fully wired with star/delta start system and includes 2x 2.3 litre breathing air filter console for wall mounting.
It's low speed ensures continuous operation for long service intervals and reduced maintenance costs. The 4-stage compressor block is mounted on a painted steel panel and is designed for maximum operating pressure of 420 bar.
Features
Electro motor (Standard: 400V, 3 phase, 50Hz)
Powder coated steel frame (RAL 6026)
Powder coated steel fan guard (RAL 7004)
Automatic condensate drain
Automatic stop at final pressure
Specifications
Type: Air cooled piston compressor
Capacity [l/min] / [Nm³/h] / [cfm]: 720 / 43.2 / 25.4
Max. Pressure [bar]: 350 / 420
RPM [1/min]: 1100
No of cylinders / No of stages: 4 / 4
Applications
Suitable for breathing air applications and for large capacities.