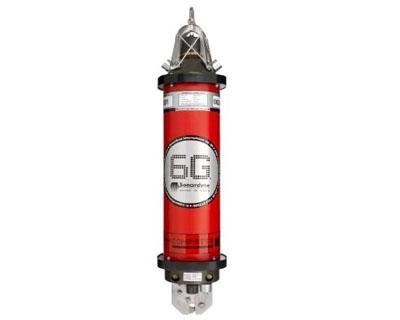 Survey Equipment
Sonardyne Midi Compatt 6: USBL/LBL Transponder and Modem
The Type 8300 Midi Compatt 6 is a shorter length transponder based on the field proven mechanics of Compatt 6. The design offers the user a lightweight unit with the same acoustic output power as a standard sized unit. Its size is perfectly suited to acoustic metrology campaigns where the shorter length and optional integrated inclinometer reduces the lever arm and therefore errors for offsetting transducer to end cap.
Compatt 6 offers significant time saving using faster and more robust Sonardyne Wideband®2 acoustic ranging and telemetry protocols. This makes any system operating with Compatt 6 significantly easier to operate therefore de-risking operations, reducing vessel time and reducing training requirements for offshore personnel. Sonardyne Wideband 2 advanced
signal processing offers improved acoustic performance in challenging conditions, longer range, improved multipath rejection around structures and real-time range diagnostics for quality control. Sonardyne Wideband 2 also reduces the interference to and from adjacent Sonardyne and other acoustic positioning systems.
Compatt 6 is fully compatible with all 6G® equipment and Sonardyne latest 6G LBL and USBL systems. The integrated communications and navigation technology allows the transponder to be used as a multipurpose modem, autonomous data logger and navigation reference transponder. The midi version is particularly suited to smaller ROVs and towed bodies as well as metrology applications due to shorter lever arms betweens sensors and the acoustic transducer.
Features
MF frequency band utilising Sonardyne Wideband 2 ranging and telemetry protocols
Faster and easier to set-up, calibrate and operate
Real time diagnostics available on ranges to enable quality control
Reduced mutual interference to further improve simultaneous ops
Advanced multi-user / multi-vessel capability
Specifications
Operating Frequency: MF (19-34 kHz)
Ranging Precision: Better Than 15 mm
Safe Working Load (4:1): 250 kg
Battery Life (Listening): Lithium 400 days
Applications
Acoustic metrology campaigns
Multipurpose modem
Autonomous data logger
Navigation reference transponder