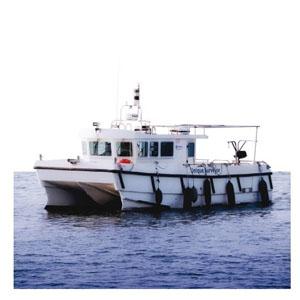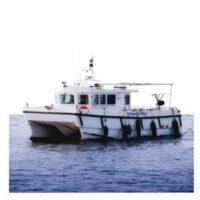 Survey Equipment
UG Surveyor: Shallow Water Survey Boat
Unique Group's vessel, Unique Surveyor, is a catamaran with a good offshore performance including rough weather capability. A large and well-designed working space, style and comfort, coupled with outstanding fuel economy, are the vessel's main features.It is available for charter in the Middle East region.
Features
Spacious air-conditioned wheelhouse including survey work benches.
Fitted with equipment racks and remote survey winch control.
Equipped with radial davits on each quarter, giving a 7 m wide towing spread across the stern.
A central stern gate with a vertical fitted ladder provides ready access down to a working platform mounted across the transom.
Has a displacement of only 5.5 tonnes and drawing less than 1m.
Specifications
Length overall: 10 metres (33')
LWL: 9.15 metres (29'2)
Beam: 4.87 metres (16'3)
Engines: 2 x 280hp Iveco inboard diesel
Max Speed: 24.5 knots
Applications
Ideal for survey and diving operations.
Can facilitate multibeam, sub bottom or side scan surveys.
The davits on the vessel can also be used to deploy a small inspection class ROV like video ray or falcon.
Small grab samplers can be deployed