Unique Group's Buoyancy & Ballast division has recently facilitated a high-profile dry dock project in Romania, involving the supply and operation of 840t of Seaflex inflatable buoyancy.
The hull and lower decks of the Australian Antarctic Division's (AAD) new icebreaker Nuyina (which means "Southern Lights" in palawa kani, the language of Tasmanian Aborigines) were constructed in the dry dock at Damen's Galati Shipyard. For the next phase of construction, the installation of the upper decks, to take place the dry dock needed to be flooded and the hull then towed to the wet dock.
Detailed engineering discussions took place over 18 months ahead of the work to determine the sizing, positioning and securing of the buoyancy units to the hull, so as to ensure sufficient clearance between the sill of the dry dock and the keel of the vessel when the dry dock was flooded.
42 x 20t Seaflex Inflatable Buoyancy Units and a system of hoses and manifolds were supplied to Damen on a rental basis, and two Seaflex technicians were deployed to offer on-site support throughout the two week operation which took place during the early autumn of 2018.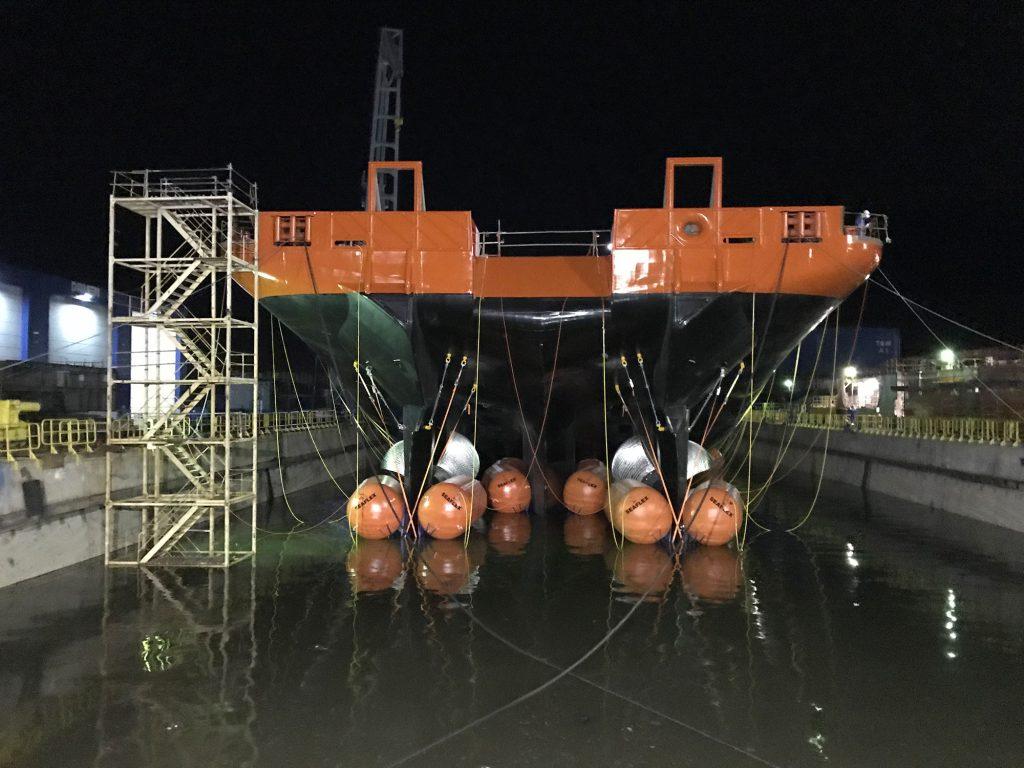 Chris Sparrow, Global Sales Manager, Buoyancy & Ballast at Unique Group commented:
"Our Buoyancy & Ballast division is truly unique within the market and we consistently bring added value to our clients, working in partnership. We get right up to speed early on in a project during the initial engineering phase and give technical assistance to clients without cost or commitment at that point. We are then able to offer clients the option of renting or purchasing equipment, according to their preference and business needs. We continue to set ourselves apart on an operational level, as we help our clients with method statements and offer Unique Group's technicians, if required, to provide on-site support for their more complex projects."
Mark De Wolf, Project Manager at Damen Shipyards said: "Having worked with Unique Group on a similar, if smaller-scale, application in the Netherlands a few years ago, we were confident in the company's ability to ensure a successful outcome on a much greater scale for the Nuyina project. We have been delighted with the level of support Unique Group provided to us through the full project lifecycle."