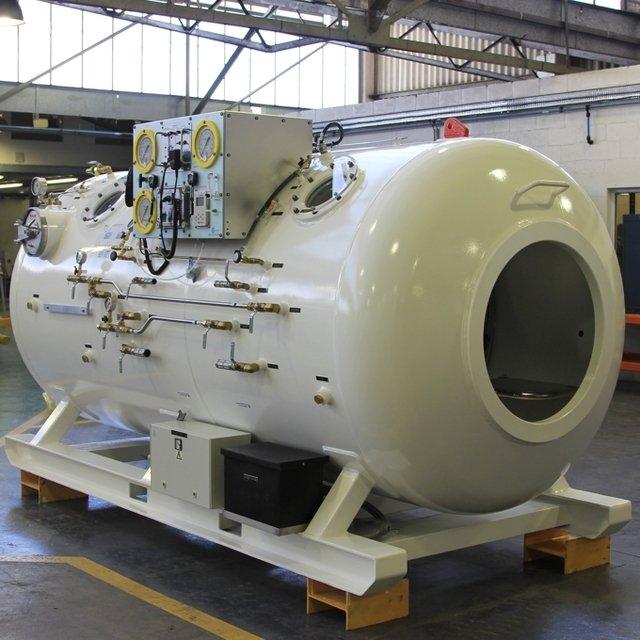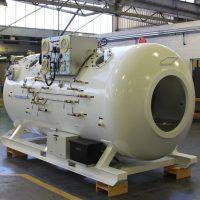 Diving + Life Support
UG A1500/100: Commercial Diving Chamber
Unique Group offers the A1500/100 Commercial Diving Chamber. It is specifically designed for use on board diving support vessels and coastal support bases.
Features
Rated to a depth of 100m/334fsw in accordance with the latest ASME-PVHO code with u-stamp.
The pressure vessel design is approved by ABS and the construction of the vessel is reviewed and witnessed by ABS surveyors.
Incorporates 2 locks, and complies with IMC requirement for deck chamber used for recompression.
Internal fit-out includes sound-powered phones, hyperbaric fire extinguishers, stainless steel wear surfaces and two internal bunks allowing for either two recumbent patients or four seated occupants.
The control panel is fitted with an oxygen analyzer, 2 pressure indicating gauges, therapeutic gauge, an electric control and twin-lock communications panel.
Specifications
Inner Data: -+1500mm (-+60")
Length: 3620mm (142)
Width:1770mm (70'')
Height: 1927mm (76")
Weight: 2760kg (empty)/ 3000 (fitted out)
Applications
Diving support vessels and coastal support bases
Diver decompression