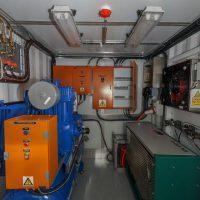 Diving + Life Support
UG SL 1.6 MCON: 10ft Machinery Container
Unique Group provides the SL 1.6 MCON, 10ft Machinery Container, which comes in multiple configurations to suit the client's diving requirements which include a combination of both HP and LP, two HP compressors or divers hot water units
Features
It includes a combination of both HP and LP, two HP compressors and diver's hot water units.
The container has a forced draft fan for ventilation.
Specifications
Size: 10 feet
Fully insulated and air-conditioned.
IMCA D023 & D018 compliant certification package.
Applications
Suitable for diving operations in shallow water range up to 50msw for air diving and 75msw on mixed gas diving.