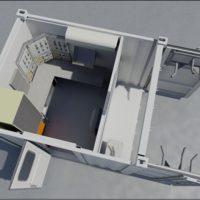 Diving + Life Support
UG SL 1.5 DCON: 10ft Dive Control Container
The SL 1.5 10ft. DNV 2.7.1 Container accommodates the Dive Control with a partitioned section for the umbilical storage and stand-by diver seat area.
Features
The Air Dive Control area is fully air conditioned.
It is ergonomically designed to modern standards and contains the control, communications and monitoring systems to enable management of all diving support operations.
Specifications
Size: 10 feet
Fully insulated and air-conditioned.
IMCA D023 & D018 compliant certification package.
Cylinder air banks: 12 cylinders
AMRON 3 diver radio
Air panel: 3
Applications
Suitable for diving operations in shallow water range upto 50msw for air diving and 75msw on mixed gas diving.