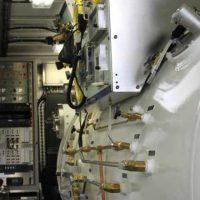 Diving + Life Support
UG SL 2.1 DCON: ISO 1500 Chamber & Dive Control
The SL 2.1 layout features a compact design by incorporating a 1500 deck decompression chamber and a dive control with a partitioned area into an ISO 20ft container.
Features
The Partitioned space gives the client the option of having either a gas bank or an umbilical storage with a stand-by diver seat within the area.
The dive control could be fitted out for air, nitrox or mixed gas diving.
The dive control / DDC area is air conditioned.
Specifications
Size: 20 feet
Fully insulated and air-conditioned.
IMCA D023 & D018 compliant certification package.
Applications
Air, nitrox or mixed gas diving