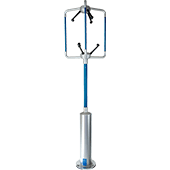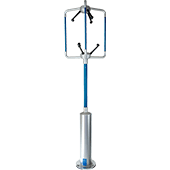 Survey Equipment
Gill WindMaster: 3-Axis Ultrasonic Anemometer
Unique Group, in collaboration with Gill, offers the 3-Axis Ultrasonic Anemometer which offers three-axis wind measurement data. This instrument will monitor wind speeds of 0-50 m/s and provides sonic temperature, speed of sound and U, V & W vector outputs at 20Hz (32Hz optional).
Features
High quality 3-axis (3D) measurements up to 65m/s (234 km/h) dependent on model
Data reporting up to 20 Hz with option up to 32Hz
12 bit digital data with options for 14 bit digital or analogue outputs
Robust design and construction
Multiple mechanical designs support a range of applications
Specifications
Wind speed range: 0-50 m/s.
Wind speed accuracy*: <1.5% RMS @ 12 m/s.
Wind Speed accuracy*: <1.0% RMS @ 12 m/s (custom).
Wind speed resolution: 0.01 m/s.
Wind direction range: 0-359?.
Applications
Wind energy site survey, meteorological and flux measurement sites
Military data collection and product development
Integration into high accuracy OEM scientific products
Scientific data collection, and control information on unmanned marine vessels
Measurement of air turbulence: around bridges, buildings etc.