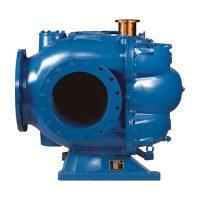 Survey Equipment
Hamworthy: Pump Room Systems
Availability: Sale
Unique Group offers Hamworthy Pumps fully integrated pump room systems which are one of the most compact systems in the world. Pump room systems are used for tanker conversions to FPSO or FSO that may include deck mounted cargo booster pumps.
Features
The scope of supply includes – cargo pumps, ballast pumps, drivers-steam, electric or diesel-based, steam condensers, stripping systems, stripping pump, tank cleaning pump, bilge pump, transmission/deck seal units, valves/actuators and control and monitoring systems.
Electrically driven VSD/VFD operated horizontal and vertical installations.
Pumps designed for high efficiency and fully reliable performance.
Maintenance-friendly cargo control systems.
Specifications
CB Cargo and Crude Oil Washing (COW) pumps capacity range: 400 to 6500 m³/h in vertical or horizontal orientations.
Pumping capacity of CA Ballast Pumps: 400 to 6500 m3/h in both vertical or horizontal orientations.
Applications
Container ships.
Bulk carrier vessels.
Tanker ships.
Passenger ships.
Offshore ships.