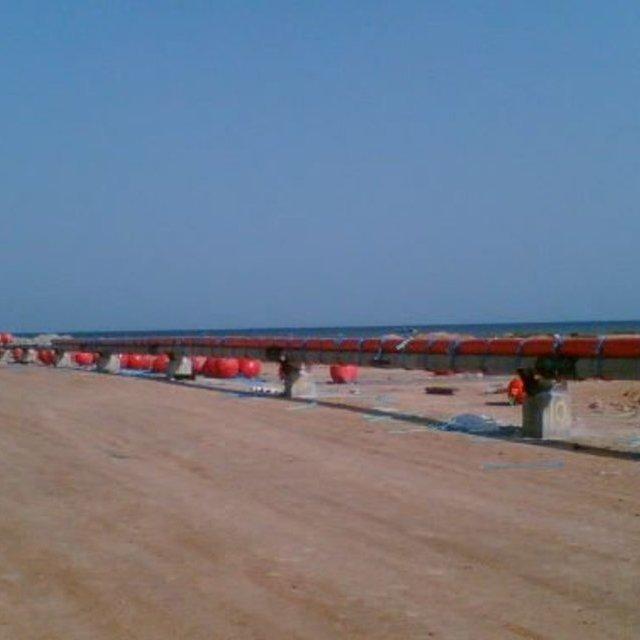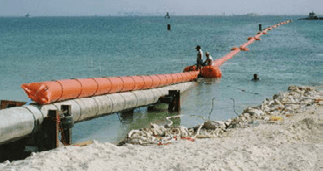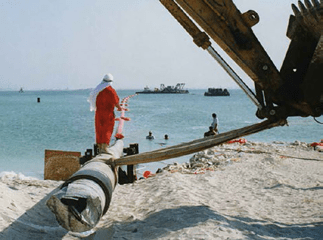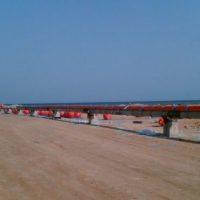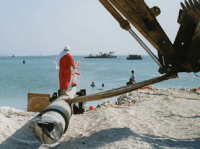 Buoyancy + Water Weights
UG: Kraken for Pipe Laying
Unique Group's Seaflex product line offers Kraken Bags for pipe laying. It provides temporary buoyancy for the launch and installation of shallow water pipes and supports lengthy sections during surface or bottom tows. From a beach launch, the equipment can take up the pipe weight in very shallow water and, with a suitable air supply, provide buoyancy at any depth. It's ideally suited to ultra-shallow applications such as the floating of pipeline through swamps, where its low profile ensures minimum draft throughout the operation.
Features
Made of the heaviest weight PVC coated polyester fabric tube with high frequency (HF) welded seams and mechanically fitted penetrators with location loops spaced at 1.33m pitch along the crown of the unit.
The coated fabric tube is extremely strong and made by the world's leading performance fabric manufacturers.
By venting air, the buoyancy can be removed by remote control from the surface.
In round numbers, 10kg of packed flexible buoyancy will produce 1000kg of lift when inflated. A ratio of 100:1.
It can be used on pipes, suited for ultra-shallow work, perfect for pulling and towing. Chafe problems can be reduced or eliminated by design of the attachments.
Specifications
Type 2650-1-6: 545 kg/m buoyancy
Type 2650-2-10: 132 kg/m buoyancy
Type 1500-1-18: 170 kg/m buoyancy
Applications
Particularly suited to ultra-shallow applications such as the floating of pipelines through swamps, where its low profile ensures minimum draft throughout the operation
Perfect for pulling and towing pipelines