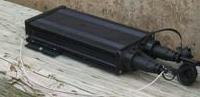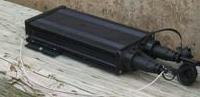 Survey Equipment
Valeport Model 740: Tide Gauge
The Model 740 tide gauge has been designed to provide an accurate, easily deployed tide gauge for use in short or long term hydrographic survey operations.
Features
Low power consumption
User-selectable sampling regimes allow up to 2 years of autonomous operation, whilst the optional radio transmission package extends the capabilities for real time operations.
Data output is compatible with the Valeport Midas Surveyor GPS Echo Sounder system.
Specifications
Transducer type: Vented strain gauge, with stainless steel mounting bracket
Transducer accuracy: +/- 0.1% Full Scale
Logging unit dimensions: Housing 47mm x 110mm x 235 mm
Logging unit weight: 1.7kg (approx) including batteries
Transducer dimension : 18mm diameter x 80mm
Applications
Hydrographic survey operations
Environmental monitoring
Educational projects