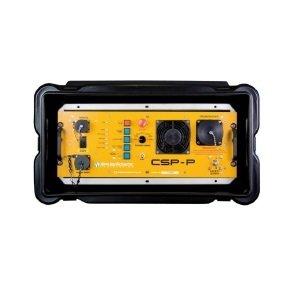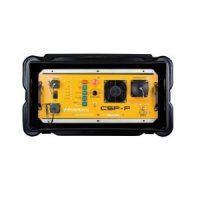 Survey Equipment
Applied Acoustic CSP-P: Seismic Energy Source
The CSP-P is a small, light 350 Joule power source intended primarily as a boomer power supply but it can be used with small sparkers. It incorporates dual-voltage technology that allows the operator to tune the sound source to a particular application for improved data quality.
Features
Variable input power circuitry for 'soft start'.
Proprietary pulse shaping circuitry for high resolution data.
LED fault indicators.
High current and voltage solid state (semiconductor) discharge method.
Meets EC emissions regulations enabling interference-free field use.
Specifications
Supplied in a robust transit case, with HV junction box (HVJ2000), mains lead and HV connector plug.
Size: Transit case (4U) with cover in place and handles flat – 29 cm(H) x 56 cm(W) x 56 cm(D).
Weight: CSP-P, case and cover – 35 kg.
Charging rate: 1500 J/second for continuous operation at 0-45°C ambient.
Voltage output: 2500 to 3950 Vdc, 4 pins interlocked connector solid-state semiconductor discharge method.
Applications
General coastal, river, canal or estuary survey.
Hydrographic sediment investigation.
Cable and pipeline route survey.