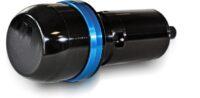 Survey Equipment
Kongsberg Mesotech 1171: Multi Frequency Profiling Sonar Head
The Kongsberg Mesotech 1171 Multi Frequency Profiling Sonar Heads have been developed to meet the requirements for both shallow and deep ocean applications. As well as the choice of operating frequencies the new sonar heads feature faster scanning rates, improved range resolution and even clearer sharper images all in a more compact lighter housing.
Features
Multiple frequency capability (675kHz to 1.35 mHz)
Improved range and scanning rate
Clearer, sharper images and a > 0.5 cm range resolution
Sample resolution of > 0.5mm
Lighter, 4000 m depth rated design
Specifications
Operating frequency: User selectable from 675 kHz to 1350 kHz
Beam width: 1.9° Cone (@675kHz) to 1.0° Cone (@1350kHz)
Range: 0.5 – 75 m typical (@675kHz)
Range resolution: +/- 0.5 cm (determined by transmit pulse width and receive bandwidth settings)
Range sample count: 238, 476, 952, 1904 (Low Resolution, High Resolution, Zoom x1, Zoom x2)
Applications
Shallow and deep ocean applications.
Underwater surveying applications.