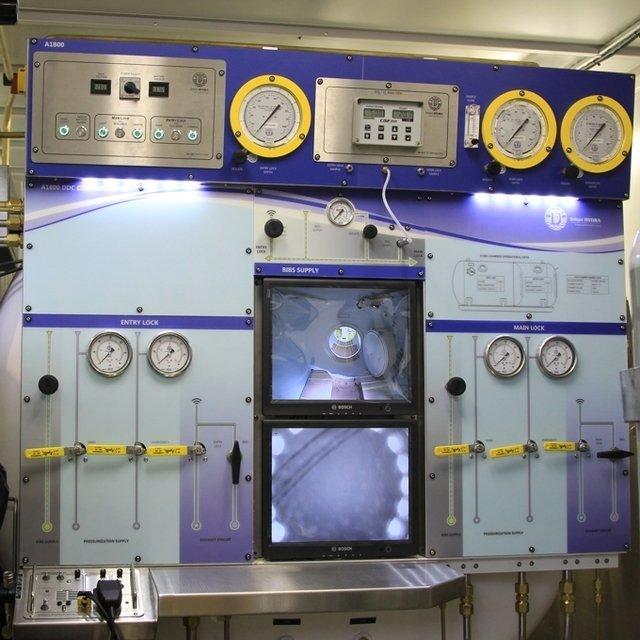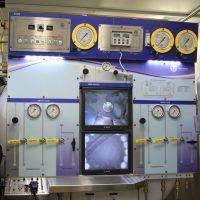 Diving + Life Support
UG A1800/100: Commercial Diving Chamber
A1800/100 Commercial Diving Chamber is designed for use inside diving support vessels and coastal support bases, these diving chambers can be either built into the diving support vessel or containerised.
Features
The chamber is rated to a depth rating of 100m/334fsw in accordance with the latest ASME-PVHO code with U-stamp.
ABS approved the Pressure Vessel design, and the vessel's construction is reviewed and witnessed by ABS surveyors.
The chamber has two locks, the entry lock, and the main lock.
Both the main and entry locks are fitted with single viewports, allowing easy visual inspection of the interior.
Standard IMCA requirements for deck chambers used for re-compression.
Specifications
Inner Dia: ± 1800mm (± 72″)
L: 3781mm (149″), W: 1940mm (76″), H: 2225mm (88″)
Weight: 3780kg (empty) / 4100kg (fitted out)
Volume: 8.9 m³
Entry Lock Volume: 2.7m³, Main Lock: 6.2m³
Applications
The A1800/100 deck diving chamber is a pressure vessel designed for use inside diving support vessels.
The chamber is designed for dive teams to conduct deep underwater repairs.