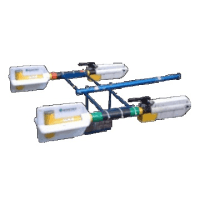 Survey Equipment
UG: Gradiometer Frame
Unique Group has produced an extremely sensitive and light weight gradiometer by utilising two magnetometers.The hard anodised frame has been found to be extremely stable and noise free. It can be configured to for either horizontal or vertical operation.
Features
Worldwide operation without any restrictions.
Lightweight anodised frame.
Vertical or horizontal configuration
Extremely stable low noise operation.
Available for use with a variety of magnetometer sensors.
Specifications
Measures three independent gradient directions such as vertical, horizontal-transverse, and horizontal-longitudinal.
Optional ballast weights are available.
Applications
Well-suited for the detection and mapping of all sizes of ferrous objects and any other object with a magnetic expression.
Perfect for geological studies.
Archeological surveys.