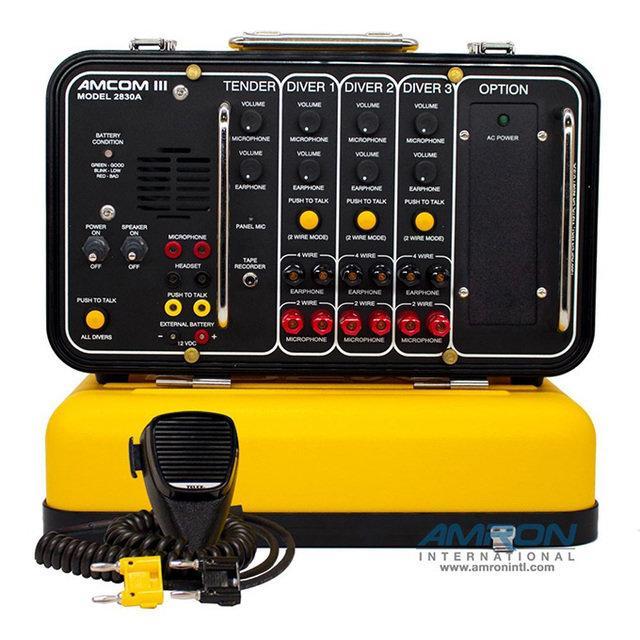 Diving + Life Support
Amron AMCOM™ III 2830A-12: Three-Diver Portable DSP3 Helium Speech Unscrambler
Availability: Sale
Unique Group offers MCOM™ III 2830A-12 Portable DSP3 with Helium Speech Unscrambler for three Divers. A small, lightweight analog or digital messenger with an international locking power cord uses recent technological advances to manage communication.
Features
Real-time audio processing uses both frequency and time domain technologies for optimised performance over a wide range of depths and background noise
Improved Treble Boost Control feature allows for optimum frequency enhancement and improved intelligible speech from the commercial diver's voice
Multi-turn Depth Control allows the tender to finely adjust the amount of correction used to provide the best possible speech quality
The Noise Reduction Filter (NRF) uses a complex Digital Signal Processor algorithm to capture the background noise and reduce it without affecting the diver's speech
Noise reduction level can be reduced by up to 17 dB
Specifications
Input Impedance (Each Input):250 Ohms
Frequency Response:300 – 10000 Hz
Common Mode Rejection: 40 dB Minimum
Current Drain Maximum Full Volume: 3 Amps
Minimum Quiescent:0.190 Amps
Output Impedance:4 Ohm
Applications
Used for both above and below water with a waterproof microphone that reduces background noise.
Suitable device, designed for both air and mixed gas diving.