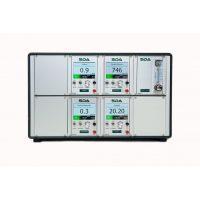 Diving + Life Support
Analox SDA: CO Monitors
Unique Group offers the Analox SDA CO Monitor which provides a full colour display of a carbon monoxide (CO) reading and is fast and accurate – designed for commercial diving in mind. The gas monitor reads results from a state-of-the-art, long-life digital electrochemical sensor. These results are shown on a full colour display.
Features
Alarm set points and calibration are achieved using the front panel user interface.
The SDA CO provides audio/visual alarms, optional data-logging and 4-20mA/relay outputs.
Fully retrofittable as a direct replacement.
Both the SDA CO and the optional flow panel can be provided as either rack or panel mount.
Specifications
Panel Mount: Depth x Width x Height: 245 mm x 120 mm x 133 mm.
Rack Mount: Depth x Width x Height: 245 mm x 107 mm x 129 mm.
Sensor Range Available: 0-20 PPM.
Sensor Accuracy: ±1PPM CO ±5.0% of reading.
Power Supply Options: AC input 85V – 264V, DC input 12V – 32V.
Applications
Used in commercial diving within sat/dive control units and compressors