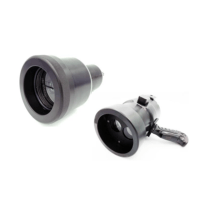 Survey Equipment
OTAQ Oceansense™:Underwater Leak & Cement Detection System
The OTAQ Oceansense Leak & Cement Detection System is an incredibly accurate leak and cement returns detection system for underwater and subsea applications which is 50 times more sensitive than the human eye. It has been field proven on hundreds of offshore jobs in the harshest of environments achieving a detection success rate of close to 100%.
Features
Repeatability of results
Removes human judgement
ROV/AUV and Diver-held versions
Typical detection range up to 15m
Detects minute particles of fluorescing dyes in water, generating unequivocal software based results.
Specifications
Max detection range: 5-7 m
Material: Anodised Aluminium
Weight in air/water 1.9kg/0.97kg (Oceansense SW 3K), 3.5kg/1.8kg (Oceansense DH )
Data: RS232 / RS485 (Oceansense SW 3K, Oceansense SW 6K)
Connector: MCBH8M wet mate (Oceansense SW 3K, Oceansense SW 6K)
Applications
Leak detection; locating leaks in hydraulic control systems, flowlines, risers and subsea infrastructure
Commissioning; confirms the structural integrity of spool tie ins and subsea structures.
Cement detection; confirming cement returns at seafloor when forming new wells.
Decommissioning; cement returns during plug and abandonment.