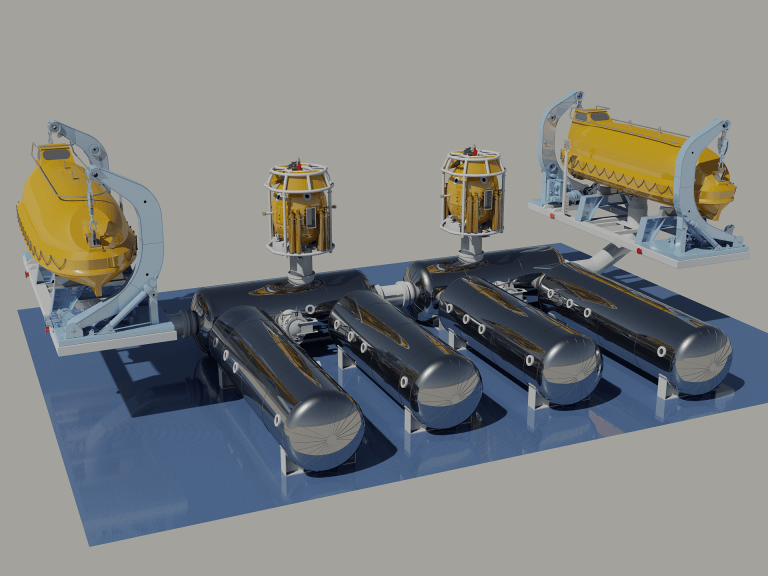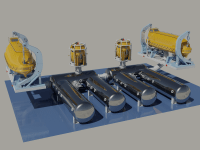 Diving + Life Support
UG 300 HDS 18: Twin Bell DSV
The HDS series of saturation systems is designed as the reliable solution to built-in DSV systems. 300 HDS 18 is easily integrated on purpose-built medium to large DSVs for continuous saturation work-scopes. It is designed for launching two bells through independent moon-pools utilising a gantry system.
Features
SPHLs can be directly deployed over the side of a vessel – making easy integrated sat dive systems.
Hydraulic systems are DNV-approved and IMCA compliant systems.
Before shipping, the sat diving system is tested extensively through the use of latest FMEA methodologies.
Specifications
Dive chamber system consists of five separate chambers, all twin lock configurations.
Four separate living areas – two can accommodate the sleeping requirements of 6 persons and two are capable of accommodating the sleeping requirements of 3 persons.
Come-out chambers are fitted with a dedicated medical bunk and independent sanitary facility lock.
SPHLs are fitted out as dedicated 18-person SPHL.
The hydraulic systems are our proven DNV approved/IMCA compliant, 15-ton and 7.5-ton winch combinations with a dual redundant power pack.
Applications
Commercial diving operations in the subsea oil & gas industry