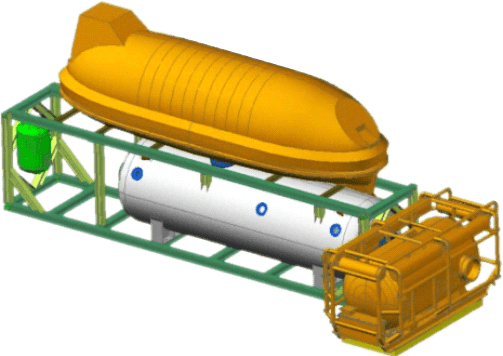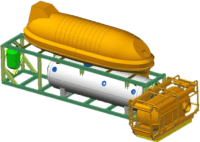 Diving + Life Support
UG 300HRF 2L-12: 12-man Hyperbaric Reception Facility
Unique Group offers 300 HRF 2L-12, it is a 12-Man Hyperbaric Reception Facility. A single, 10 bed, 12-man saturation system diving chamber complex fitted inside a support frame and supported by a combined HRF Saturation Control and Machinery module.
Features
The combined saturation control and machinery area is housed in a 20′ standard ABS shipping container.
Provides mobility, security, and climate control while on location.
This is a stand-alone, high-pressure hyperbaric reception facility .
It is capable of housing 10 divers for up to 26 days upon completion of surface decompression.
The HRF dive chamber is able to receive an SPHL, with a bottom mating trunk, via a custom TUP mating spool.
Clamp arrangement (not included in standard scope of supply) and/or receive an HRC via an end-mate custom spool and clamp arrangement (not included in standard scope of supply).
Specifications
1 x Twinlock chamber (300m Seawater depth; Twinlock; ASME VIII Div 1 and ABS design code; 10 bed/12 person; wet-pot is a TUP)
1 x Integral Chamber Support Frame (ABS lifting standards and conforms dimensionally to ISO 6346:1995 as a Type 45GO size code – 40-foot High Cube Dry Container.
1 x HRF Sat Control & Machinery Container (Mounted in a 20′ ABS freight container.
EDB; 2 x Environmental Control Units – ECU 200; a Fixed Chamber Fire Fighting System – internal deluge; 1 x potable water unit and a Waste Water System.
1 x Basic spares set
Applications
Ideal for offshore hyperbaric applications