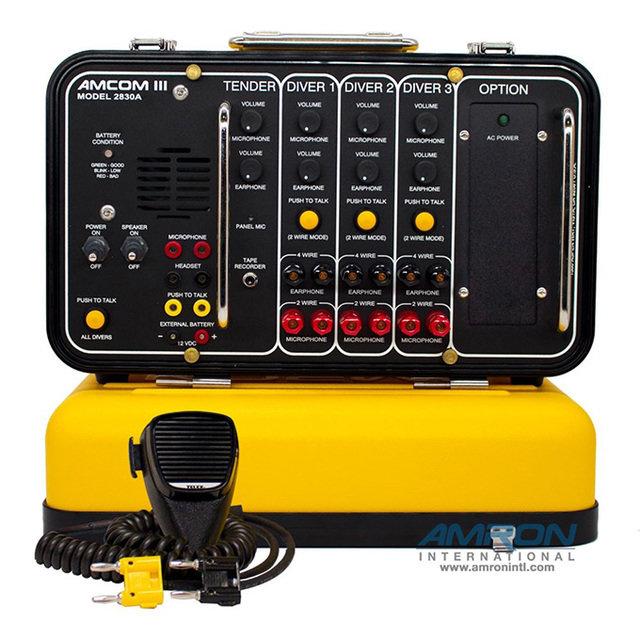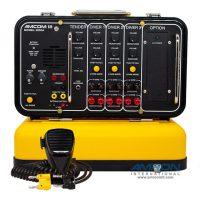 Diving + Life Support
Amron AMCOM™ III 2830A-11: Three-Diver Rechargeable Portable Communicator
Unique Group offers the Three Diver Rechargeable Basic Portable Communicator with Outdoor Power Module and International Locking Power Cord which has separate channels and volume controls upto three divers for uplink and downlink communications to and from the tender for both divers.
Features
Separate channels and volume controls for each diver.
Divers' umbilicals can be set to 4-wire mode (full duplex) or 2-wire mode (push-to-talk) or any combination of the two modes for any diver.
Ability to use both dynamic and pre-amplified diver microphones with a unique circuit.
Weatherproof push-to-talk microphone for better voice intelligibility.
Internal charger allows for simultaneous charging and operation of the unit while protecting the rechargeable battery from being overcharged.
Specifications
Input Impedance (Each Input): 250 Ohms
Frequency Response: 300 – 10000 Hz
Common Mode Rejection: 40 dB Minimum
Current Drain Maximum Full Volume: 3 Amps
Minimum Quiescent: 0.190 Amps
Applications
Commercial diving operations in the subsea oil & gas industry