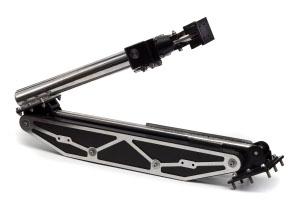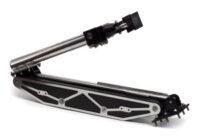 Survey Equipment
Hydro-Lek HLK-46000: Compact Camera Boom Arm
The HLK-46000 Camera Boom Arm has been designed for pipeline inspection work, using a pair of these arms pipelines of up to 1 metre can be easily inspected. Its unique design allows the camera mount to stay at the same angle through the entire 135? of angular movement of the arm without any adjustment.
Features
Designed for pipeline inspection of up to 1 metre
Compact and easily stowed on smaller vehicle
Incorporates HLK-2100 Mini Pan & Tilt as standard
Camera remains stable throughout entire 135? angular movement of arm
Camera mount can be tilted through 90? and rotated through 180?
Specifications
Dimensions: Length of arm (Extended) – 1040 mm, Height (Stowed) 636 mm, Width 120 mm
Weight in air/water: 13.7/8.7 kg
Construction: 316 SS, HE 30 Hard Anodised Aluminium, Polyethylene
Applications
Pipeline inspection work
Work class and small ROVs