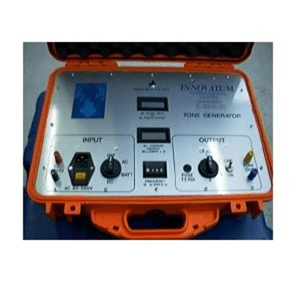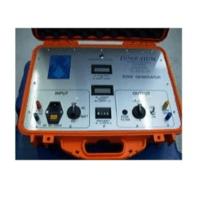 Survey Equipment
Innovatum: Tone Generator
Innovatum manufactures a universal tone generator suitable for injecting low frequency AC signals into cables, to enable location and tracking in Active AC (Tone) Tracking Mode.
Features
The internal battery is recharged via the mains input, even during operation.
Meters are provided to monitor voltage and RMS current outputs.
The tone generator is fitted into a waterproof synthetic resin case for protection both during transit and operations.
A high power add-on module, giving drive voltage of up to 200 V is also available, in a matching case.
Other tone generators, including units in Explosion Proof housings, are also available.
Specifications
Frequency range: 10.0 to 999.9 hertz in 0.1-hertz steps, selectable
Output voltage, external AC power: 28-volt nominal
Output voltage, external DC power: 15 to 35 VDC
Output voltage, internal battery power: 24-volt nominal (7AH capacity)
Output current: Up to 1,250 mA, switch selectable, short circuit protected.
Applications
Marine survey
Oceanographic survey
Hydrographic survey