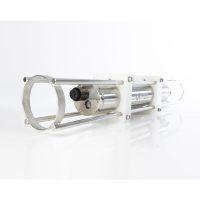 Survey Equipment
Valeport Midas CTD: Profiler
The MIDAS CTD is an accurate, robust CTD Profiler. It has a high stability conductivity sensor, which maintains performance at extreme temperatures and pressures and is also fitted with a high accuracy 0.01% pressure sensor as standard. It also features our unique synchronised sampling technique to ensure that all sensors are sampled at exactly the same time for perfect profiles.
Features
It uses the concept of distributed processing, where each sensor has its own microprocessor controlling sampling and calibration of readings.
The instrument will operate autonomously, with setup and data extraction performed by direct communications with PC before and after deployment.
The MIDAS CTD is fitted with 16Mb solid-state non-volatile FLASH memory.
The low power consumption and large memory also make it suitable for longer-term deployments.
Specifications
Conductivity range: 0 – 80 mS/cm
Conductivity resolution: 0.002mS/cm
Accuracy: ±0.01mS/cm
Temperature range: -5°C to +35°C
Temperature resolution: 0.005°C
Applications
Oceanographic application
Surveying of water bodies
Educational studies